And our county leaders almost fell for it
President Biden took office promising a path to Citizenship for immigrants. And Texas Governor Greg Abbott wasted no time trying to block it.
He declared immigrants at the border a disaster and swiftly started shaming and blaming immigrants to try to divide and distract Texans.
On top of that, he asked Texas counties to declare their own disaster proclamation and use our local resources to arrest and jail immigrants.
You heard that right – Governor Abbott asked our elected officials to volunteer to be pawns in his political game.
Should have been an easy choice for Rio Grande Valley leaders, right? Tell Governor Abbott to get lost and be done with it.
But our top county officials were actually considering joining his scheme.
Unbelievable, right? Well not exactly.
You see, Governor Abbott's scheme was a page right out of Trump's playbook. Cut programs and services, give kickbacks to corporations. Then point at immigrants for the hard times we're facing.
And hope that we are all so divided and distracted that we can't demand from our elected officials the things that we all need to thrive.
And our top county officials were actually falling into his trap.
But LUPE members couldn't let that happen. We have decades of experience uniting to disarm racist divide-and-distract tactics. So LUPE members mobilized.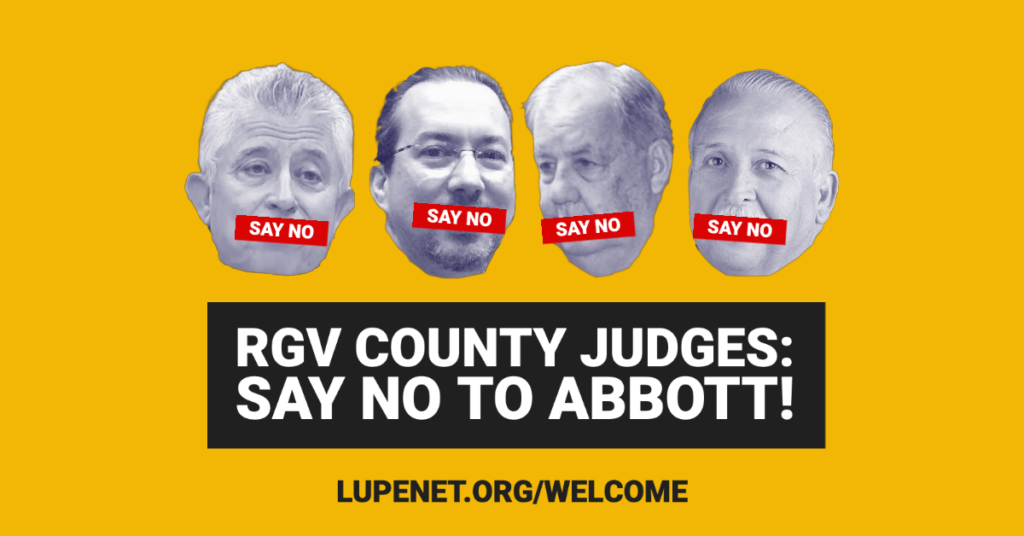 We quickly demanded our local elected officials stay out of the governor's fake disaster declaration. We got over one thousand people to email our county elected officials. And we brought out dozens of people to county commission meetings.
And guess what– all four RGV counties opted out of the disaster declaration. We effectively shut down Governor Abbott's scheme in the RGV.
And on top of that, we forced Governor Abbott to scale back his harmful attacks on immigrants at the border.
We accomplished this by mobilizing online and offline. Though far apart, we did it together.
That's because LUPE's strategy is to unite where they divide. We join across race, background and geography to fight for a border region where all can live free and thrive.
This is an election year. And the racist shame-and-blame tactics will only intensify. We need RGV leaders to stand up to political games that use our home to divide citizens and enrich wealthy corporations.
That's why we need you to join this fight. Become a formally enrolled, dues-paying LUPE member and help us push our leaders to fight for a border region where all can thrive.
LUPE members pay $40 per year and become part of LUPE's collective action and decision-making process. Our online members attend virtual meetings, join in-person community events, and help us lead our online and offline mobilizations.
LUPE members are building unity that shows politicians that we won't be divided by their racist political games. Become a LUPE member through our online signup page today.