On March 25th, 2023, LUPE staff, members, organizations, and Texans across race, place, and background marched from the San Juan Municipal Park to the Historical LUPE Headquarters demanding "justicia y libertad" the theme of this year's 20th annual Cesar Chavez March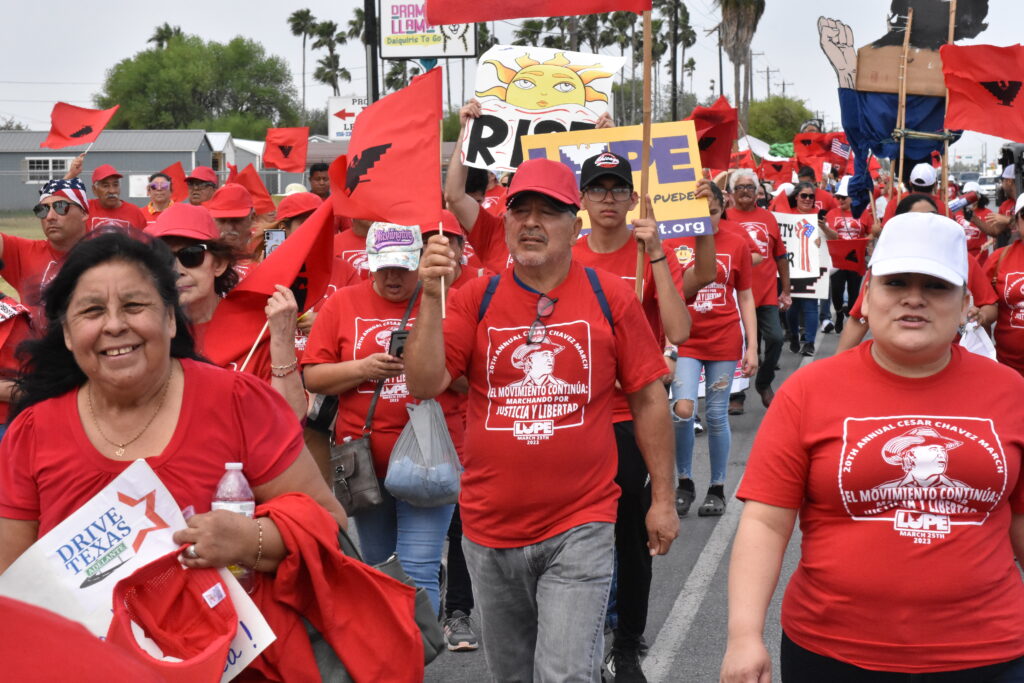 César Chávez & Dolores Huerta founded LUPE in 1989. LUPE was founded on the belief that when people work together, they can impact change. César & Dolores realized that workers had needs outside the work place. They envisioned LUPE as the entity to help workers and their families by applying the same principles and strategies that he used to build the UFW.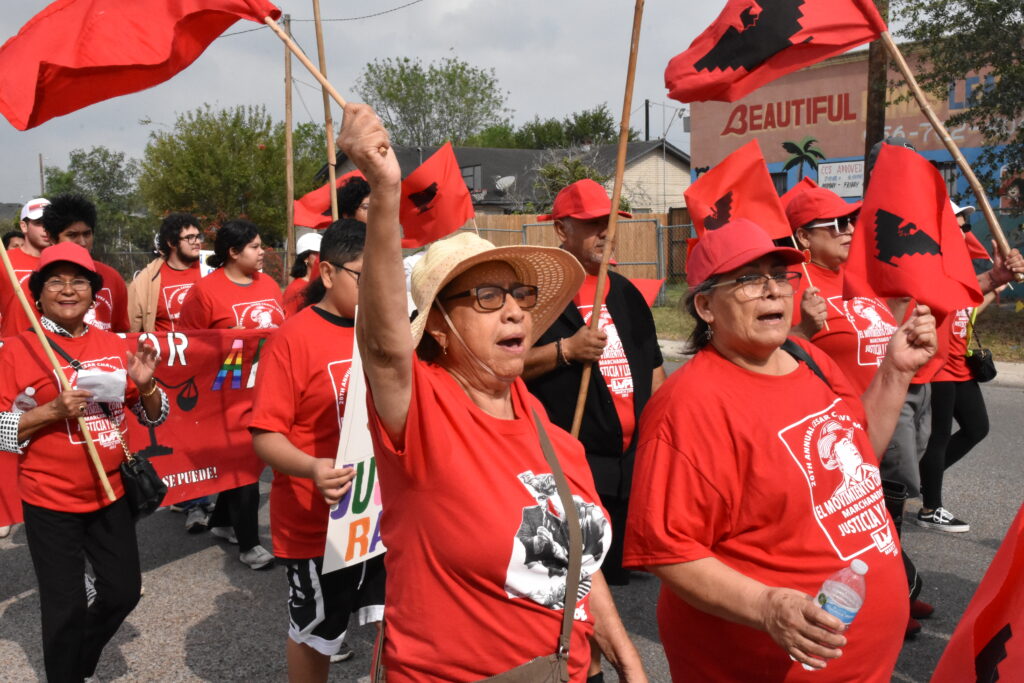 In 2003, LUPE was established in the Rio Grande Valley by Executive Director Juanita Valdez-Cox, then UFW State Director for South Texas. Juanita brought the LUPE model after farmworker leaders recognized the need for a community organizing model to advance the objectives of farmworkers and colonia residents.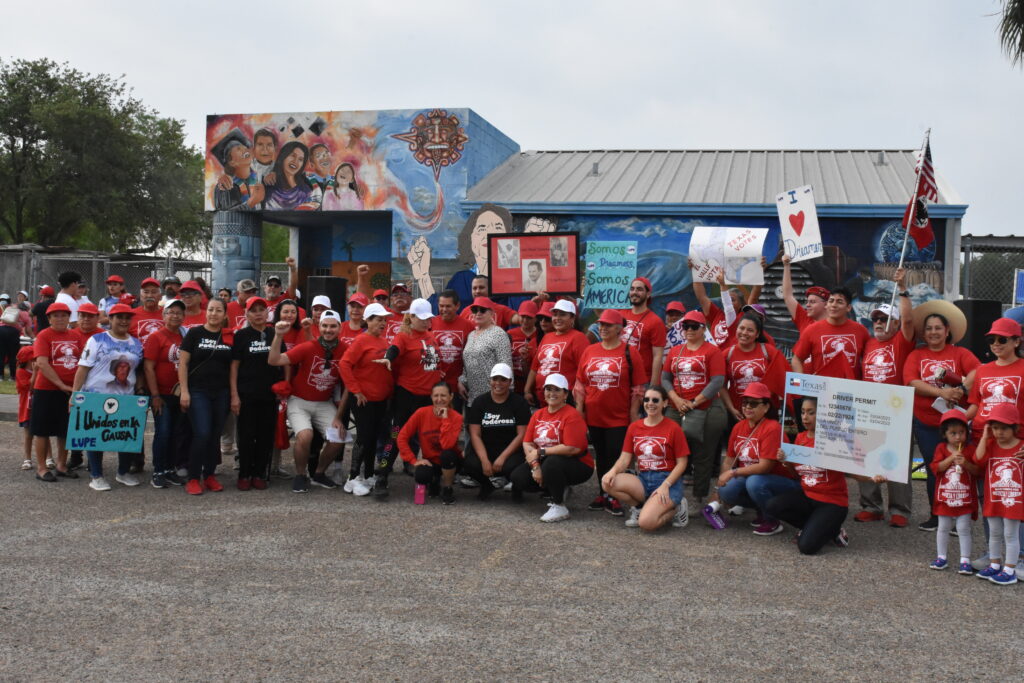 2003 marked the first Cesar Chavez March hosted at the LUPE San Juan Headquarters, to honor Cesar Chavez Day, this event is right before Cesar Chavez Day, as our Director of Organizing, Joaquin Garcia expresses, "we march because we know that our South Texas communities deserve respect and dignity. We march because our people deserve immigration reform. We march because our communities need funding to address infrastructure issues that affect the way we live. We march because the Rio Grande Valley is our home and we want to thrive and live a prosperous life. We march for Cesar Chavez. We march for our people of the valley. We march for those who can't. Long live El Pueblo, long live LUPE, long live La Raza!"
LUPE Staff, members, organizations, and families coming together at the 20th annual Cesar Chavez March holding up their signs on what they stand for and believe in. Signs they marched with, messages they carried out with every step supporting those searching for "Justicia y Libertad"
Hear our voices, hear our rally cries! We know what we want and we want it now just as much as those who showed up today, just as they showed up for those who couldn't! Listening to our speakers, Tania A. Chavez, Executive Director, Luis Castillo, Director of Education Equity, Evon Bueno, Civic Engagement Organizer, Joaquin Garcia, Director of Organizing, Angela Chavez, LUPE Receptionist, Estefania Norato, LUPE Social Work Intern, America Hernandez, Al Colegio Si Se Puede Participant, Lucia Herrera, LUPE Member, Norma Adalpe, LUPE Member, Emma Analiz, LUPE Member. Every speaker today had something to say something to grieve for one another who has been in their place or going through it. Issues regarding farm work, education, voting, infrastructure, civic engagement, issues not just here in South Texas, but issues that are faced by across race, place, and background across Texas.
Marching from the San Juan Municipal Park to the LUPE San Juan Headquarters, in the verge of rain, and windy weather. That does not stop the force of unity that was in every step taken within these 1.8 miles. The fight doesn't stop and neither do we! Si Se Puede!
Thank you to those involved and the artists involved in created the pieces for the marcha such as Quetzalcoatl which was worked on by Marco Lopez, Community Organizer and his team of LUPE members, and Josué Ramírez that put it together and painted it. Sergio Trevino, Digital Organizer, along with the help of LUPE members created the Dolores Huerta as pictured in the images. Our 20th annual Cesar Chavez t-shirts and flyers were created by Sandro Galicia @Face2face956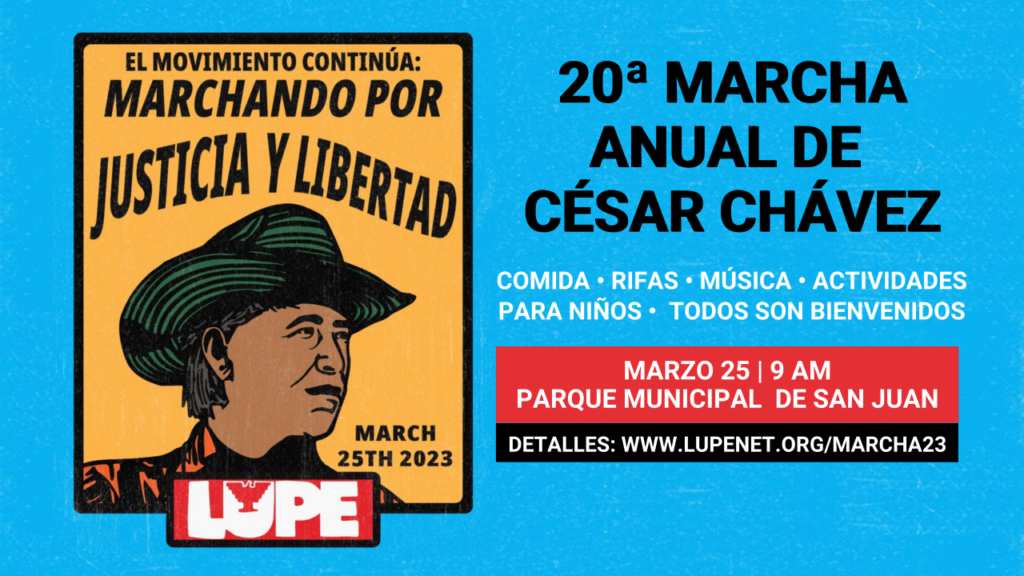 Thank you to our sponsors