On November 9th, 2023, our Cameron County community organizer, Katia Garza, hosted our second Junta General in our new San Benito office. The Junta General is rooted in a long tradition of organizing that dates back to our days with the United Farm Workers, where weekly meetings were held to inform the community about organizing updates. Now, these meetings occur monthly on the first Friday of every month in the historic grand hall of the LUPE San Juan office. Like our monthly meetings in San Juan, Katia aims to bring knowledge, lessons, community, and a commitment to organizing oneself to members and residents of San Benito and Cameron County.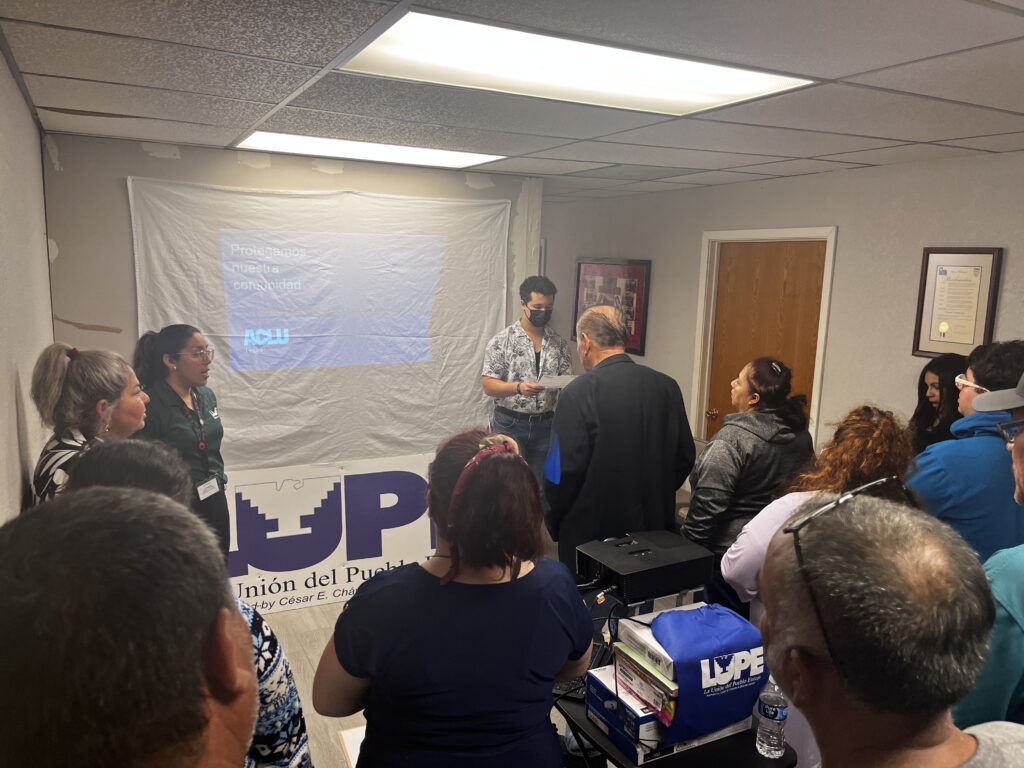 Members and residents standing for the Oración del Campesino.
The main goals of the Junta General aren't only to hold a public gathering but to create leaders within these spaces. It aims to have our members speak up, rise up, and work together towards goals that bring beneficial changes in their lives. Because if they don't work towards their needs themselves, who will?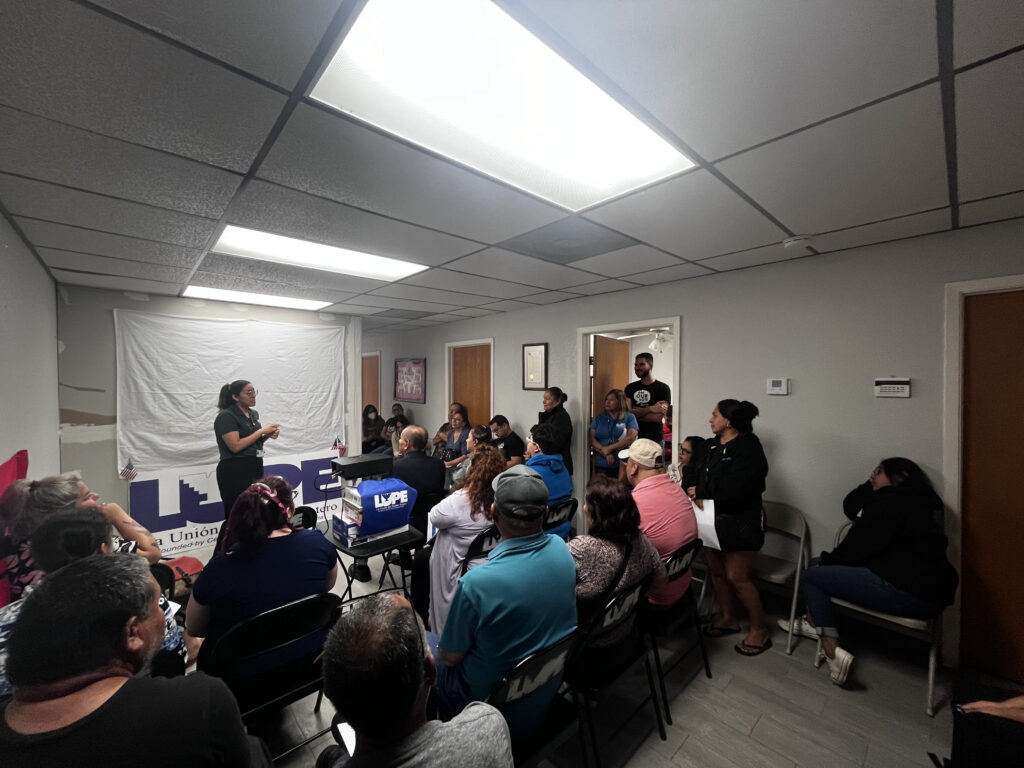 Katia Garza Quijano, Community Organizer speaking at the San Benito Junta General
Katia let us know that "San Benito is in a different county. I have noticed that Cameron County needs to engage and mobilize. People are not accustomed to it. They need to know LUPE can support their goals (some people still don't know we have an office in San Benito). In general, I saw that Cameron County needed to be active. Plus, I wanted to try it to see if people are willing to work with us."
The San Benito office is one of the newest additions to the LUPE locations, which also include San Juan, Alton, and Rio Grande City. These additional offices aim to close the distance and the gap between its members and residents in need.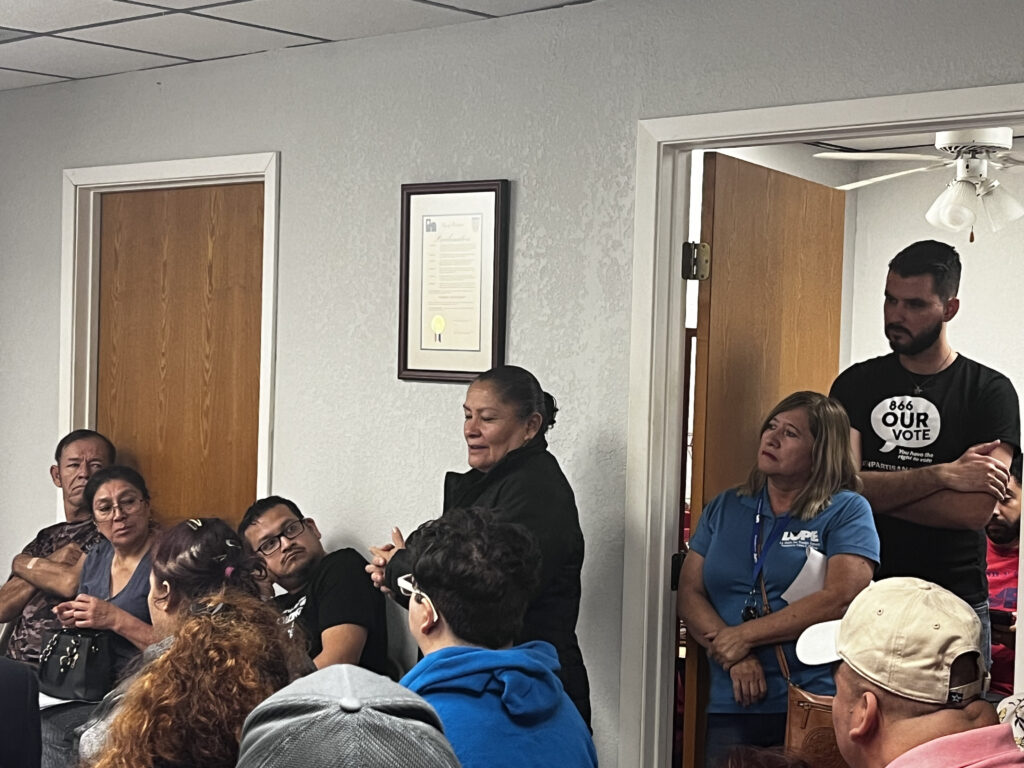 Participants engaging in the discussion
To bring a Junta General together is a team effort—an effort to raise awareness of the office, its services, membership, ideals, and what LUPE can do with you. As Katia mentions, "I have been coordinating with Mr. Montalvo for phone banking and text messages, and with the communication team for support…I have direct contact with our colonia members and people I met in our office. On the same note, I am coordinating with students/professors so they can consider participating in our events." Individuals like Mr. Montalvo and those who volunteer their time remind us that we are all in this together. It is through collective action where we can have the biggest impact.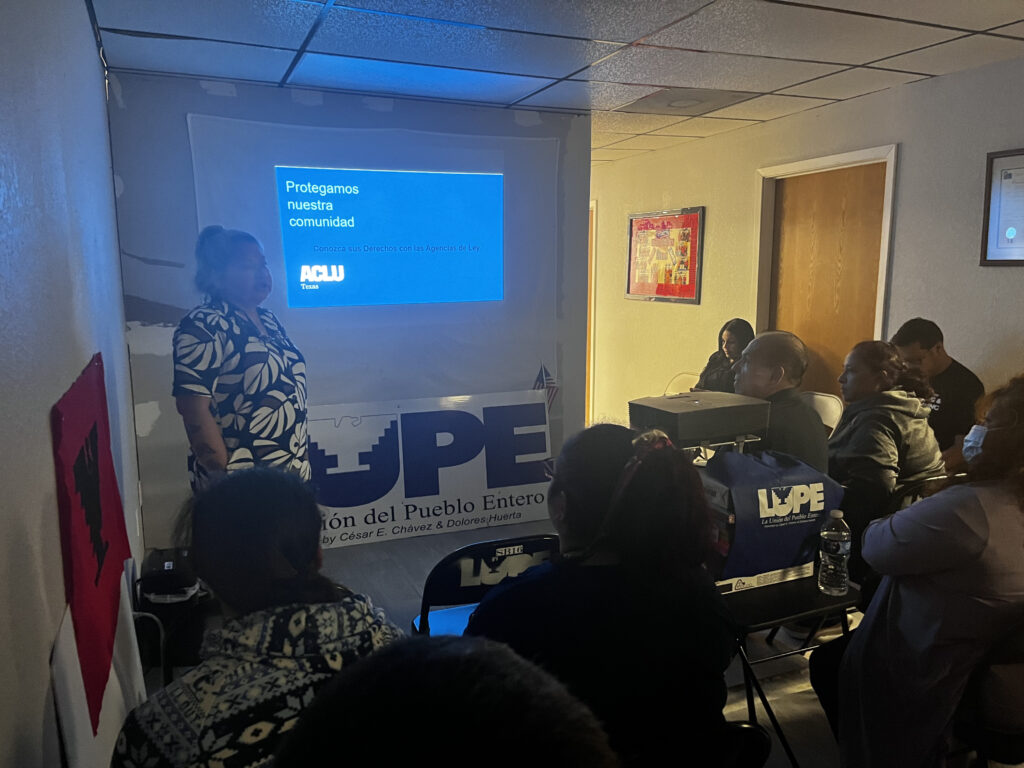 Maria Cordero from ACLU giving a presentation on knowing your rights to protect your community
La Unión del Pueblo Entero (LUPE) and Katia Garza Quijano encourage the public to come out to the nearest LUPE office in your area—not only to discover what LUPE can provide for you but also to explore what we can achieve together!
Si Se Puede!