Help the Family of Jorge Gonzalez Zuñiga Find Justice
July 15 marks one year since the death of Jorge Gonzalez Zuñiga. His family has received no justice. The officers broke his neck but have not been charged. And they are still employed by Hidalgo County Sheriff's Office
Take action for #JusticeForJorge:
> Call Hidalgo County elected officials: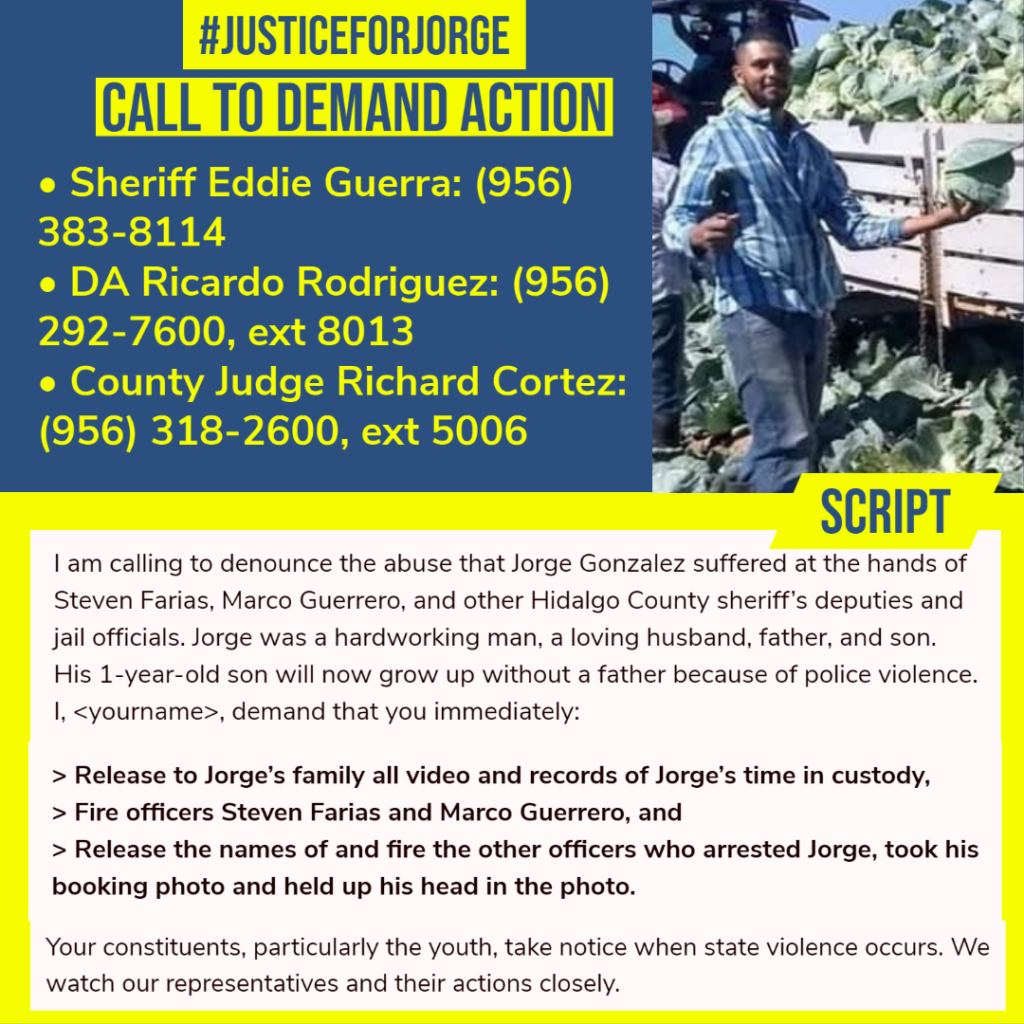 Jorge was a father, a brother, a son. He was a farmworker who fed the nation with the sweat of his brow. He enjoyed barbequing with his family on the weekend.
LUPE member Jorge Gonzalez was barbecuing with friends Easter weekend of 2020. He stayed late and fell asleep when Hidalgo County Sheriffs' deputies arrived to enforce the county's stay-at-home order. The next time his family saw him, he was in critical condition with a broken neck. He passed away in July after months of complications.
The Hidalgo County Sheriff's Department and District Attorney Rodriguez refuse to accept accountability for the murder of Jorge Gonzalez Zuniga.
Jorge's family is demanding justice for Jorge. LUPE is accompanying the family in their fight. We are demanding:
Release to Jorge's family all video and records of Jorge's time in custody,
Fire officers Steven Farias, Marco Guerrero, Jorge Cabrera and Julio Trevino
We will not stop until the family receives the justice they deserve!
Jorge's story
Katia, Jorge's sister, shares the family's story on their gofundme campaign page:
My brother Jorge Gonzalez will never hold his son in his arms again.

Jorge was a hardworking man, a loving husband, father, and son. Whenever someone was in need, he wanted to help. He enjoyed spending time with his family and barbecuing for us on the weekends.

He was at a friend's house the night he was arrested, and had fallen asleep when sheriff's deputies showed up enforcing the county's emergency shelter-in-place order.

A witness says that sheriff's deputies ended up on top of him. He suffered a broken neck, and a compressed spine. We believe he went over 26 hours in Hidalgo County jail without any medical attention until they finally transferred him to the hospital. Not in a ambulance but in a deputies car.

He went through a series of surgeries, and was in intensive care for over a month after the arrest. His doctor said he should have been put in a long term care facility. Jorge was undocumented and didn't have insurance. He was sent home.

Jorge's wife our mom(catalina), tia (Danielle) and myself (Katia) were constantly by his side. But we aren't nurses and we were so scared that one mistake could take him from us.
Continue reading the family's story and make a donation to the family's fight for justice.