When DACA recipient Julieta asked her community of Dreamers of TikTok how they felt about DACA turning 10 years old, she shared her own feelings: "I feel agradecida but I am also just tired."
Julieta was one of the first Dreamers to receive DACA in the Rio Grande Valley in 2012. Wednesday, June 15th, 2022, marked 10 years of DACA. We spoke to Julieta in the lead up to the anniversary. She explained her conflicted feelings.
"It's a very bittersweet moment because DACA for these 10 years has provided relief from deportation for us Dreamers who did qualify for the program," Julieta said, emphasizing that many Dreamers were excluded from DACA's protections. "But at the same time it is 10 years too many that we have not gotten permanent relief, not just for Dreamers but for any undocumented community. 10 years is just too much and it's very disappointing."
She shared that 10 years of DACA means 10 years of access to drivers licenses. 10 years of pursuing a career and education. 10 years of traveling within the U.S. without fear.
But it also means 10 years of living her life two year at a time. 10 years of guilt that her mother doesn't have the same protections as her.
Referring to her mother, Julieta said, "This hardworking woman has so much courage and deserves so much more than Dreamer communities."
Immigrant youth won DACA through relentless organizing for a path to citizenship and a stop to deportations. But DACA has never been the freedom that immigrant youth and their families and communities need. Since the creation of DACA, immigrant youth have pushed for permanent protection for all undocumented immigrants. Their primary call has been for a pathway to citizenship and an end to deportations and the criminalization of communities of color.
"[DACA] is great but there's no moment, there's no day that we don't feel like it's not enough," Julieta said.
Our full interview with Julieta is below, which has been edited for clarity and length.
---
---
LUPE: What does 10 years of DACA mean to you?
Julieta: It's bittersweet. I enjoy that we have been provided this protection from deportation by this membership that we have to renew every two years. But where is all that money going? Because I still don't have any permanent relief. And if anything it creates this anxiety to be thinking about, okay, am I going to get renewed the next time I have to submit my paperwork? Is the DACA lawsuit going to end the program for all DACA recipients who are currently enrolled in the program? It's just walking on eggshells and it's very frustrating. But I am grateful.
LUPE: Tell me about a moment when it dawned on you or really sunk in that life was going to be different with DACA.
Julieta: When I found out about the program, it really dawned on me. That moment when the president went into that Rose Garden and made the announcement, he was saying things that I felt that I would fall under. I was like, oh my God. I couldn't believe it. I started crying immediately, my mom started crying with me. I guess it sunk in that life was going to be different.
But then as all the adult things start happening–like the whole driving without a license, I didn't have to be scared to look at my rear mirror and see a police officer pulling me over for something that everyone does, like go over 5 on the speed limit, or things like that that are everyday things but for us, as undocumented immigrants, could put me in deportation.
As I started experiencing those things, it felt amazing to be able to get that protection. But there's always guilt. There's always guilt because I know my community is still in that, is still experiencing that. And at some degree, yes, DACA is great, but it is not enough.
It's not enough when it comes to people who want to get a certain type of job but they can't because they have DACA [and not legal residency]. Or for an employer to know that they have two secure years for your employment authorization card but then after those two years if you don't get renewed, they would have trained you for nothing.
It's things that go in the back of our mind and that are always there that limit our potential. It sinks in, little by little, as things happen. But also it sinks in that it's not enough. Yeah, it's cool, and yeah, it's given me opportunities and you don't have to be scared any more. But you're still scared because the program could end at any moment.
Our family member gets sick in our country and we can't just go visit them just because. We have to ask for permission as if we're like property. And we have to send a request and pay $575 for an advanced parole and have an officer decide whether or not we should go and exit the country to see that family member.
So it's like little everyday activities that are normal for you or for anybody else that is here in this country with permanent protection, for us it's not like that. So there's always constant reminders that, "hey, you're here because we want you to be here."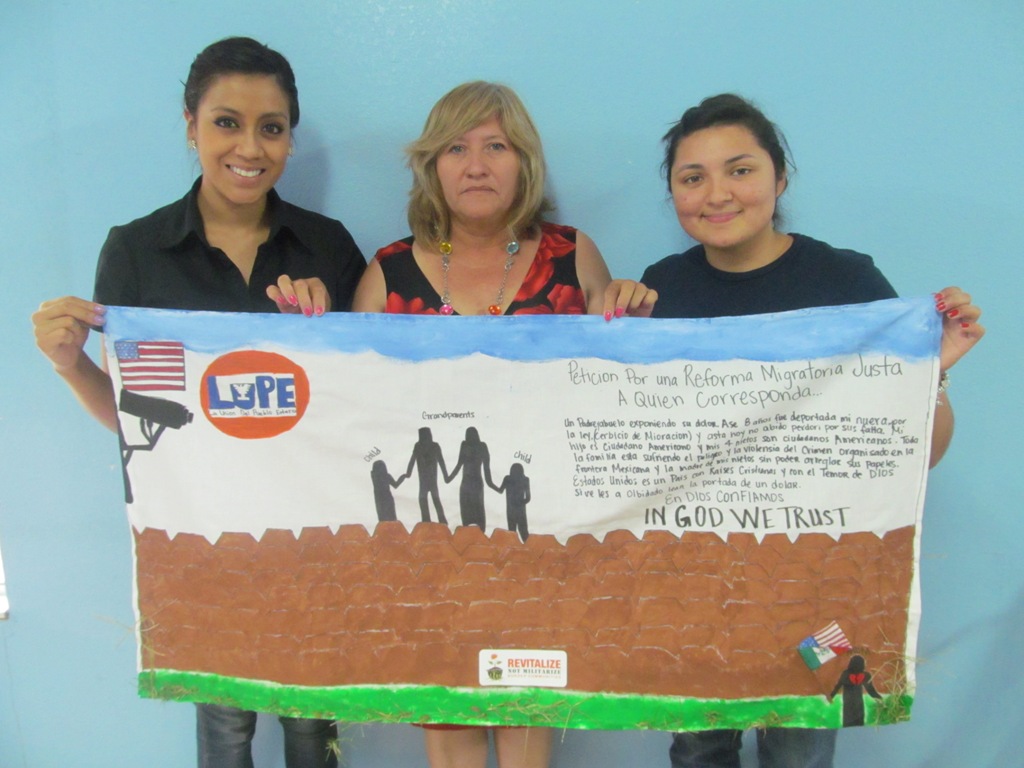 LUPE: Tell me about a time when you really felt like DACA was not enough, a moment when you knew it did not serve your needs as a human being.
Julieta: Trying to go and visit a family member has been hard to accept that I have to ask for permission and pay. I think that has been the one that I feel has been like a straight to your face reminder that this is not enough and that we are not seen as equal citizens of our community, we are just subcategories. And it sucks to say it like that but it's very dehumanizing.
I think a moment when it wasn't enough was the moment that DACA was backed up from being renewed. People were getting their employment authorizations late. I'm thankful because I got mine on time. But while my waiting period was going on, and I was seeing that others were going on a year and not getting their renewal, I started to worry. Like, oh my God, how long? You start counting the days, like, okay, I sent it with enough time. That person got it in March, and I sent it before them. You know? It's like this preocupaciones on top of whatever you have going on as a human. We all go through life with moments of depression, moments of uncertainty, moments where you're working so hard you literally have no time for anything else. But you still gotta think, okay mañana I have to send my renewal, because if I don't, I have to come up with money. All these things, like–why are we even having to think about this? It's demoralizing.
Who even said that Dreamers deserve more than any other member of the undocumented community? We are here because our parents were the real dreamers. I couldn't possibly think to even move to a different state right now–all these things que se me hace bien dificil. And when I think about it, my mom left a country. She grabbed her little cositas–probably like 10 little things–she compiled money, she figured it out and she brought her two children with her. Like, this hardworking woman has so much courage and deserves so much more than Dreamer communities. It's not fair that we got this small token of appreciation and they did not and they were the real dreamers.
---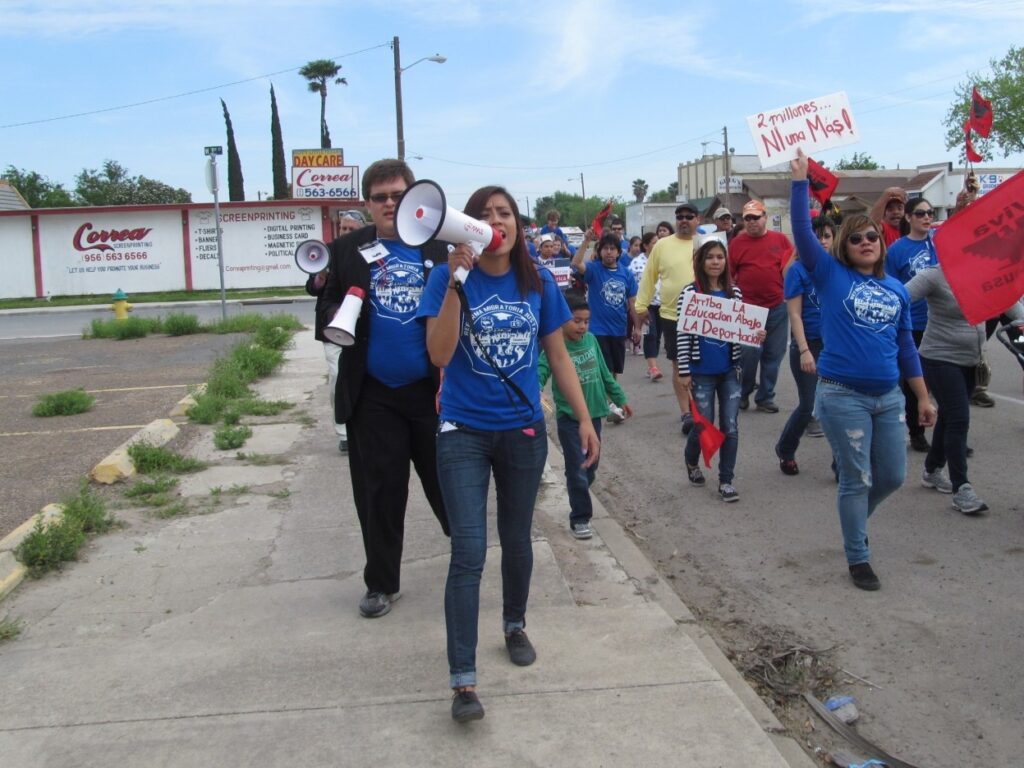 ---
We are organizing toward a world where we all live freely and safely, have autonomy over our bodies, and determination over our futures. For immigrants, that starts with permanent protection and a path to citizenship.
But to get to that future, we need to look back on where we've been. On the occasion of DACA's 10 year anniversary, take a look back on a decade of DACA and the fight for immigrant dignity in the RGV. Check out our timeline here.