LUPE members and ally organizations from the Rio Grande Valley make their pleas heard throughout the capitol floors to stop the endangerment of immigrant families and the militarization of the border.
Austin, TX— La Unión Del Pueblo (LUPE) is taking center stage today at the Texas Capitol by calling out Starr County Representative Ryan Guillen and his plan to move forward with HB7 and HB20. Members of LUPE alongside the Never Again Again Coalition, Grassroots Leadership, Frontera Fund, and other community organizations held an action in the rotunda of the Capitol by rolling out a banner that says "End family separations, vote no on HB7 and HB20".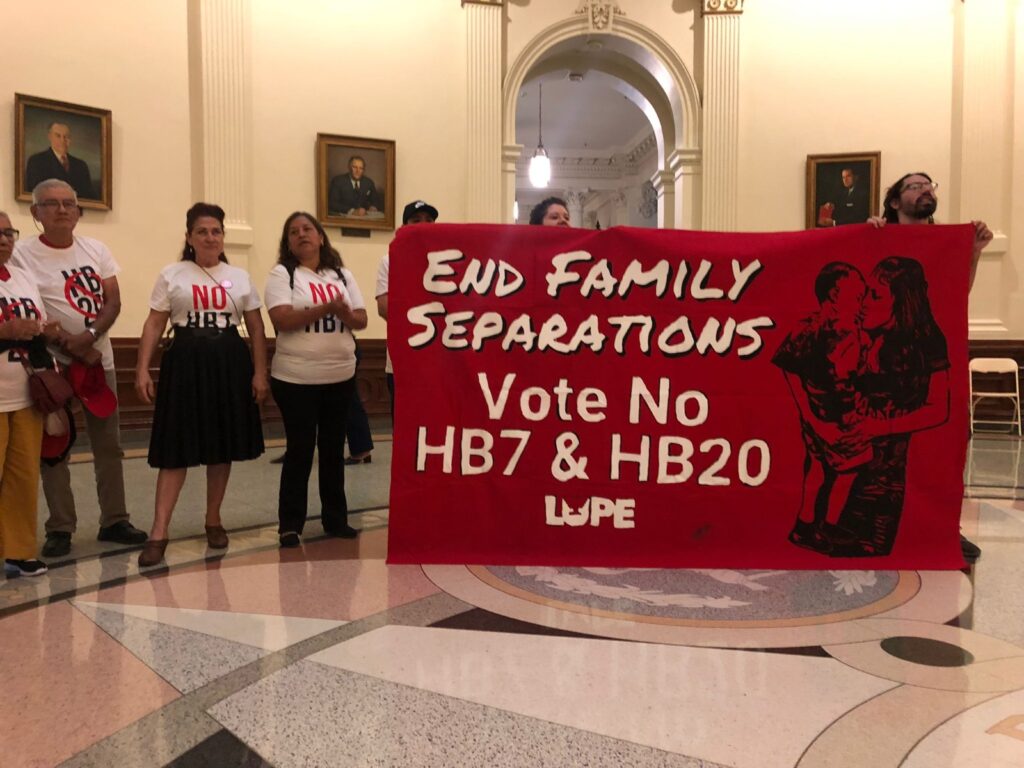 Immediately following this action, LUPE members will visit Rep. Guillen's office will hold a "sit in" action and demand to speak with the representative.
Just last week, members of LUPE and other Rio Grande Valley organizations stood outside of Rep. Guillen's office in Starr County. When a group attempted to deliver a letter for Rep. Guillen, the office staff did not open the door to receive the letter asking the representative to meet with his constituents to discuss the border bills. The letter was ultimately slipped under the door, but LUPE did not receive a response from Guillen's office.
Joaquin Garcia, Director of Organizing at LUPE and Starr County native, said, "Bills HB 20 and HB 7 are two far-reaching bills and would change the way residents of South Texas live and thrive. HB 20 would establish and empower a separate unit within DPS to recruit vigilantes that would roam the streets of Texas to arrest, detain, and persecute individuals that they perceive to be undocumented. In addition, HB 7 would strengthen the criminalization system for migrants under Operation Lone Star. Both bills would be disastrous for our border communities, and they would instill fear and anxiety in border residents. As a result, LUPE will continue to advocate against these anti-immigrant bills in the Texas Legislature and with our lawmakers through mobilizations and phone banking sessions to try to stop these bills from becoming law. La unión hace la fuerza."
"Los proyectos de ley HB 20 y HB 7 son dos proyectos de gran alcance y cambiarían la forma en que los residentes del sur de Texas viven. La HB 20 establecería una unidad separada dentro de DPS para reclutar vigilantes que recorrerán las calles de Texas para arrestar, detener y perseguir a individuos que perciban como indocumentados. Además, la HB 7 reforzaría el sistema de criminalización de los migrantes bajo la Operación Estrella Solitaria. Ambos proyectos de ley serían desastrosos para nuestras comunidades fronterizas, e infundir miedo y ansiedad en los residentes fronterizos. LUPE continuará abogando en contra de estos proyectos de ley anti-inmigrantes en la Legislatura de Texas y con nuestros legisladores para evitar que estos proyectos de ley se conviertan en ley. La unión hace la fuerza".
To arrange virtual or in person interviews with representatives of LUPE, contact Ramiro Gonzalez, LUPE Communications Coordinator, at (956) 360-4277 or ramirog@lupenet.org. Interviews available in English and Spanish.
To view live updates, follow LUPE on Facebook, Instagram, and Twitter.